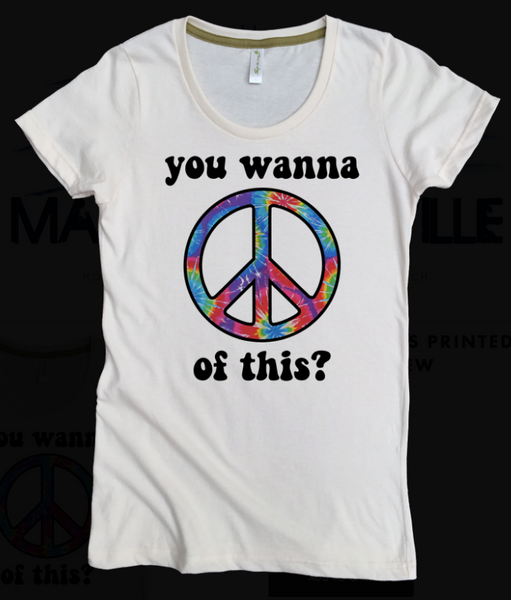 Wanna Peace of This? 100% Organic Cotton Crew T-Shirt
This great Wanna Peace of This women's scoop neck is printed with eco-friendly inks on a super soft, 100% organic cotton t-shirt.

Available in Women's sizes S, M, L. XL Slim fit.
Dusty Pink, Smokey Teal, Heather Grey (Heather grey is 50% recycled bottles, 50% cotton).
Pre-shrunk.
100% Cotton - grown in Texas
Printed with eco-friendly inks.
Made in the USA
Care: 
Machine or hand-wash in cold. Machine dry low or medium, or, line dry.    
Women's T-shirt
Wanna Peace of This? t-shirt 100 percent cotton 
Women's cotton clothing
Wanna Peace of This? organic cotton t-shirt
Eco-friendly Wanna Peace of This? tee shirt for women
Women's Wanna Peace of This? 100% cotton t-shirt
Cotton Wanna Peace of This? Women's T-Shirt