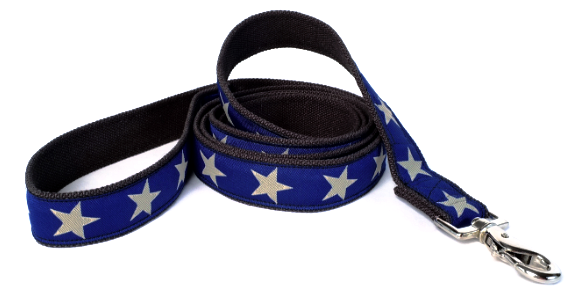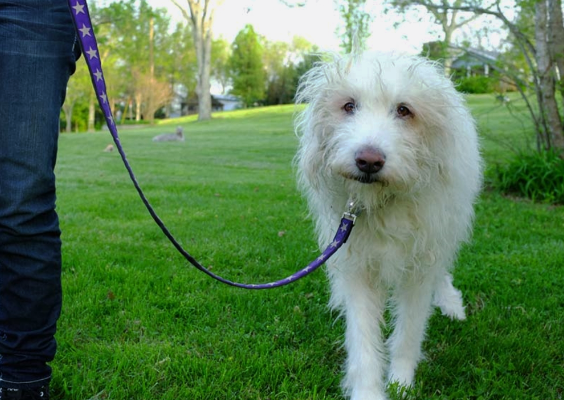 Kody III Decorative Hemp Dog Leash - Blue w Stars (also in Red and Green)
Regular price
$31.00
Sale price
$23.25
---
Hemp is super comfortable for your dog and for you!
The "Kody III" blue hemp dog leashes feature triple-layer, 100% hemp canvas construction with the unmatchable comfort of hemp. You'll love the way it feels on your hand! Made with the highest quality snaphooks that combine safety with ease of use. Distinctive blue trim with stars.

Also see the matching "Kody III" Collar.

Also available in
   Green with White stars: Kody Collar, Kody Leash, and
   Red with White stars: Kody II Collar. Kody II Leash.
Collars and leashes can be machine washed and dried, and are hypoallergenic.
Long-lasting! They soften as they wear in, but they take years to wear out. Doesn't cut into your dog's neck or your hands, like nylon can.
Kody III leashes are 1" wide x 6' long.
Hemp Dog Gear is

Super sustainable - hemp requires no pesticides and little water to grow. 
Kind to humans - gentle to the hand when dogs tug on the leash.
Kind to dogs - hypo-allergenic -- great for dogs with sensitive skin. Hemp collars are more comfortable on dogs' necks than nylon.
Some of hemp's eco-friendly qualities:
* Hemp, like Bamboo, is a hardy, fast-growing plant which needs little water to grow and few if any fertilizers or pesticides, thereby increasing the efficiency of land-use, and reducing depletion of water supplies and pollution to the soil, water & air. Hemp fiber is durable and long-lasting.
Eco-friendly dog leash
Hemp dog leash - Kody III
Earthdog dog leashes
Sustainable dog leashes