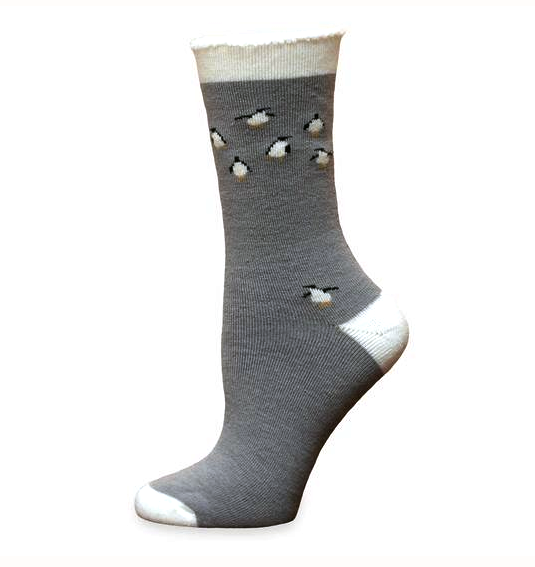 Penguin Winter "Snuggle" Socks for Women & Men - Organic Merino Wool
These super comfy Organic Holiday Wool Snuggle Socks feature a whimsical penguin design. Made from Soft Organic Merino Wool with a medium cushion throughout the sock, your feet will step with comfort, on the trail, in your house, or in your snowboots.
These Organic Wool Snuggle Socks by Maggie's Organics are made from soft, organic merino wool that is washable - treated with a special chlorine-free anti-felt treatment, which is certified to international organic standards (GOTS).
Fit: Stretchy and comfy
Relaxed, stretchy comfort top
Environmentally-safe washable Organic Wool
Cushioning throughout
Soft, organic merino wool
Made in North Carolina USA

Contents
75% Organic Merino Wool, 29% Nylon, 1% Spandex
CARE:
For Best Results: Machine wash in cold water and line or flat dry. Your Wool Snuggle Socks will stay soft and stretchy for years.
See Size Chart, below.
The wool is fair-trade grown on family-owned organic farms in Argentina. Regulated by the US Organic Rule.
Made in USA
Sock Size / Shoe Size for Men & Women
9-11   Fits Women's Shoe size 7-9.5
           Fits Men's Shoe Sizes 5.5-9.0
        
10-13  Fits Men's Shoe Sizes  9 -13
           Fits Women's Shoe sizes  11 -14 
Penguin Certified Organic Wool Holiday Snuggle Socks
Comfort Top Organic Holiday Wool Socks -  Penguin
Maggie's Organic Wool Holiday Socks - Penguin