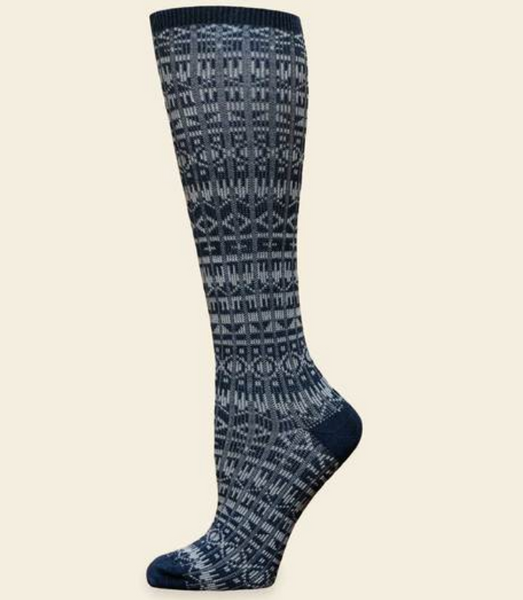 Organic Merino Wool & Organic Cotton Knee High "Sweater" Socks
Regular price
$23.00
Sale price
$18.00
---
Wool & Cotton Knee Hi Socks are made in the USA from Organic Merino Wool & Organic Cotton. Enjoy the moisture-wicking comfort of our lightweight dress sock available in three unique patterns that wrap around the leg and top of foot.
Our organic merino wool yarn is washable - treated with a special patented chlorine-free anti-felt treatment, which is CERTIFIED TO INTERNATIONAL ORGANIC STANDARDS (GOTS).
Fit: Gently snug
Mid calf height
Lightweight & stretchy
Environmentally-safe washable Organic Wool & Organic Cotton

Knit in pattern never fades
CONTENTS
42.1% Organic Merino Wool, 28.3% Organic Cotton 27.7% Nylon, 1.9% Spandex
WASHING INSTRUCTIONS
For Best Results: Machine wash inside out and line dry. Your Wool socks will stay soft and stretchy for years.
See Size Chart, below.
Regulated by the US Organic Rule.
Made in USA
Sock Size / Shoe Size for Men & Women
9-11   Fits Women's Shoe size  5.5 - 9
           Fits Men's Shoe Sizes   4 - 7
        
10-13  Fits Men's Shoe Sizes  7.5 - 11.5
           Fits Women's Shoe sizes  9.5 -13
Certified Organic Wool & Cotton Knee Socks