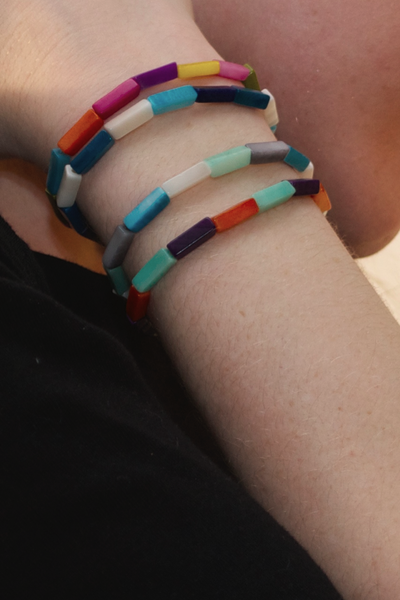 Marita Bracelet - Tagua Nut - 4 Colorways
Each bead in these fun, brightly colored bracelets is handmade from tagua nuts and colored with vegetable based dyes to create beautiful, rich colors. 
Wear one bracelet, or mix and stack several Maritas together. Choose from the 4 color combinations shown in the image:
Dark Purple/Orange/Pale Green
Pale Green/Light Grey/Natural
Med. Blue/Natural/Dark Blue
Purple/Pink/Orange/Green/Yellow/Blue
Environmentally and Socially Responsible Jewelry
Made fairly in Colombia and Newton, MA, USA.
Sustainable Jewelry
Sustainable Bracelets
Renewable Jewelry
Sustainable Tagua Nut Jewelry