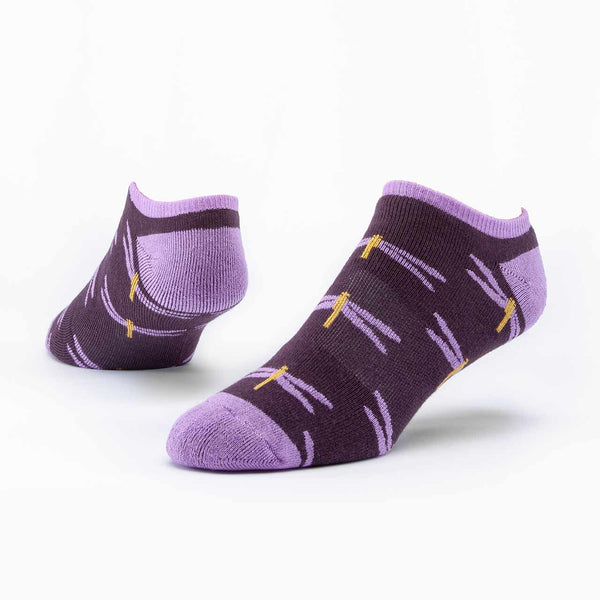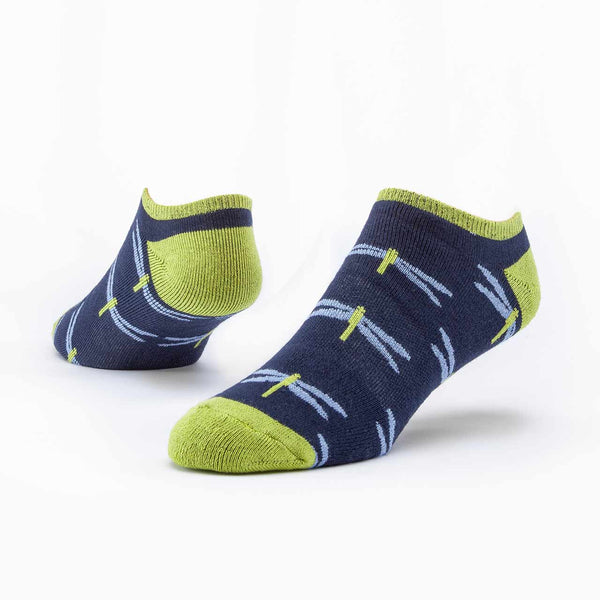 Dragonfly Organic Cotton Striped Cush Footie Socks - in Purple or Blue
Maggie's Organic Cotton fun, striped footie socks are made from Organic Cotton so soft and plush you won't want to take them off. Below-the-ankle, stay-in-place height with full bottom-of-the-foot padding.
Special stay-in-place heel for great fit
Just below ankle length feels just right
Dyed and knit in North Carolina USA
Contents
81.6% Organic Cotton, 16.4% Nylon, 2% Spandex
Washing Instructions
Wash inside out and line dry. Your colors and comfort will last for years.
9-11   Fits Women's Shoe size 5.5-9.5
           Fits Men's Shoe Sizes 4-8
        
10-13  Fits Women's Shoe Sizes  10-12.5
           Fits Men's Shoe sizes  8.5-11.5
The cotton is fair-trade grown on family-owned organic farms in Nicaragua. Regulated by the US Organic Rule and meeting Global organic trade standards (GOTS).
Made in USA
CARE:
Machine wash inside out cold or warm. Tumble or line dry. These socks will stay soft and stretchy for years.
Sock Size / Shoe Size for Men & Women
Certified Organic Cotton Footie Socks
Striped Footie Organic Cotton Socks
Organic Cotton Footie Socks