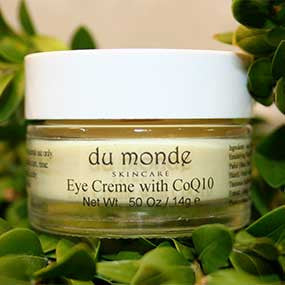 All Natural Moisturizing Eye Cream with CoQ10
This light and effective moisturizing Eye Cream from Du Monde increases circulation, reduces dark circles and the appearance of fine lines, increases oxygen levels, protects against free radicals, and helps increase collagen production.
Essential oils give this non-greasy cream a, light pleasant citrus scent.
Du Monde Skincare develops all-natural products formulated without parabens, phthalates, synthetic fragrances, sodium lauryl sulfate or sodium laureth sulfate.Use in the morning and/or at night. Great under make-up.
The Eye Cream's natural ingredients nourish skin, and include ginkgo biloba, soy, Co-Enzyme Q10, yeast and Eye Bright.
Active Ingredients:

Yeast – improves circulation, improves tone and texture
Soy (organic) – reduces dark circles, improves tone and texture, improves circulation
Mica – reflects light under eye area temporarily reducing the appearance of fine lines
CoQ10 – flights free radicals, fights against UV damage, helps produce collagen, antioxidant (plant derived pharmaceutical & cosmeceutical grade CoQ10)
Eye Bright – anti-inflammatory
Ginkgo Biloba – increases blood flow & oxygen to skin
Made in the USA
All Natural Moisturizing Eye Cream
Moisturizing Eye Cream
DuMonde Eye Cream