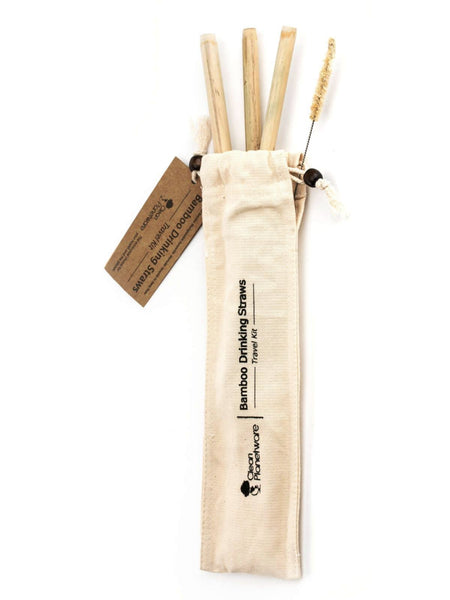 Reusable Bamboo Straw Travel Kit - 3 Straws + Agave Cleaning Brush
Regular price
$16.00
Sale price
$14.00
---
-Everyday, 1 billion single-use plastic straws are discarded into the environment. Our bamboo drinking straws are a fun and eco-friendly alternative to plastic that can be used for any beverage.
The travel kit is great for keeping in your backpack or purse – so that you'll always have reusable straws with you when they are needed.
The hand-woven 100% cotton bag contains:
3 Organic Bamboo Drinking Straws
1 Non-Plastic Agave Fiber Straw Cleaner
The straws are USDA Certified 100% Bio-based. The Agave Fiber Drinking Straw Cleaner is an alternative to conventional straw cleaning brushes that are made with plastic/nylon. The beads on the draw strings of the cotton bag are made of wood.
A new experience in drinking. These sustainable bamboo straws are very fun. Great for gifts and for your own household -- and great for the environment.
These straws are made from real whole bamboo stalks – nothing re-compressed or processed. They are washable and reusable. 

A purchase of bamboo straws is a vote for sustainable materials. 

Help reduce plastic production and keep straws out of landfill and the oceans.
10" long. 
These straws can last for years when properly cared for: 
Wash in soapy water or shake in a jar of soapy warm water. Not recommended: Soaking for an extended time or washing in dishwasher.

Bamboo is a hardy, fast-growing plant which needs little water to grow and few if any fertilizers or pesticides, thereby increasing the efficiency of land-use, and reducing depletion of water supplies and pollution to the soil, water & air. Bamboo is durable, naturally antimicrobial and naturally stain-resistant.

100% Bamboo
Fair-trade made in Northern India.

Reusable, eco-friendly straws
Non plastic straws
Bamboo drinking straws

---